Pima Canyon Trail

Coronado National Forest
Santa Catalina Mountains
Tucson, Arizona

Distance: 5 mi (dam), 9 mi (Pima Saddle)
Type: out & back
Time: 3+ hrs (dam), 8+ hrs (Pima Saddle)
Season: not summer
Elevation Range: 2900-6400 ft
Permit Required: No
USGS 7.5' Topo: Tucson North, Oro Valley

Trail Map (000 Kb PDF)
About the map and trail profile
Description
The trail is close to town (north of 1st Avenue and Ina Road) and goes out and back so you can hike as far as you want. Most hikers turn around at the dam for a 5-mile walk, about 4 hours for the leisurely hiker. You may miss the dam, a small structure and pond tucked into the west wall of the canyon. Beyond the dam the trail shows its lack of use and is rough and sometimes hard to follow. The trail gets steeper as you climb and has a few scrambles near the top. Count on a full day if Pima Saddle is your destination.
This is a people-only trail. No dogs or bikes are allowed. Pusch Ridge Wilderness is home to protected wildlife and no animals (other than us) are allowed on the trail. Unfortunately, this is often unobserved so watch for loose dogs on the trail and politely remind their keepers of the rules of the trail.
For those new to hiking in the arid southwest, a few suggestions. Wear boots with good ankle support. Much of this trail is rocky and if you do it in tennis shoes you'll get footsore. Look before you set a hand or other body part down. Many desert plants protect themselves with spines. The one you're most likely to meet (literally) is the cholla, best removed with a comb.
This trail is also good for running, if you're looking for a good climb and don't mind lots of rocks. It's about a 90-minute run to the dam and back.
Rating
The convenience of Pima Canyon makes it very popular year-round, which is the only down side of this trail. Otherwise, it's a great choice if you want something that's close to town but takes you away from the traffic and noise. If you want to explore Pusch Ridge and see views north and south from the same spot, this trail will get you up there. Be prepared, though. The hike to Pima Saddle (and back) is only recommended for those in good physical condition with sturdy footwear.
How to get there
Take 1st Avenue north past Ina Road. Slow down; this is a residential area and popular for morning walks and bicycle rides. The road will change names (to Christie Drive) and wind around until it stops at Magee Road. Take the roundabout right and follow Magee to the Iris O. Dewhirst Trailhead. The trail starts from the east side of the parking lot.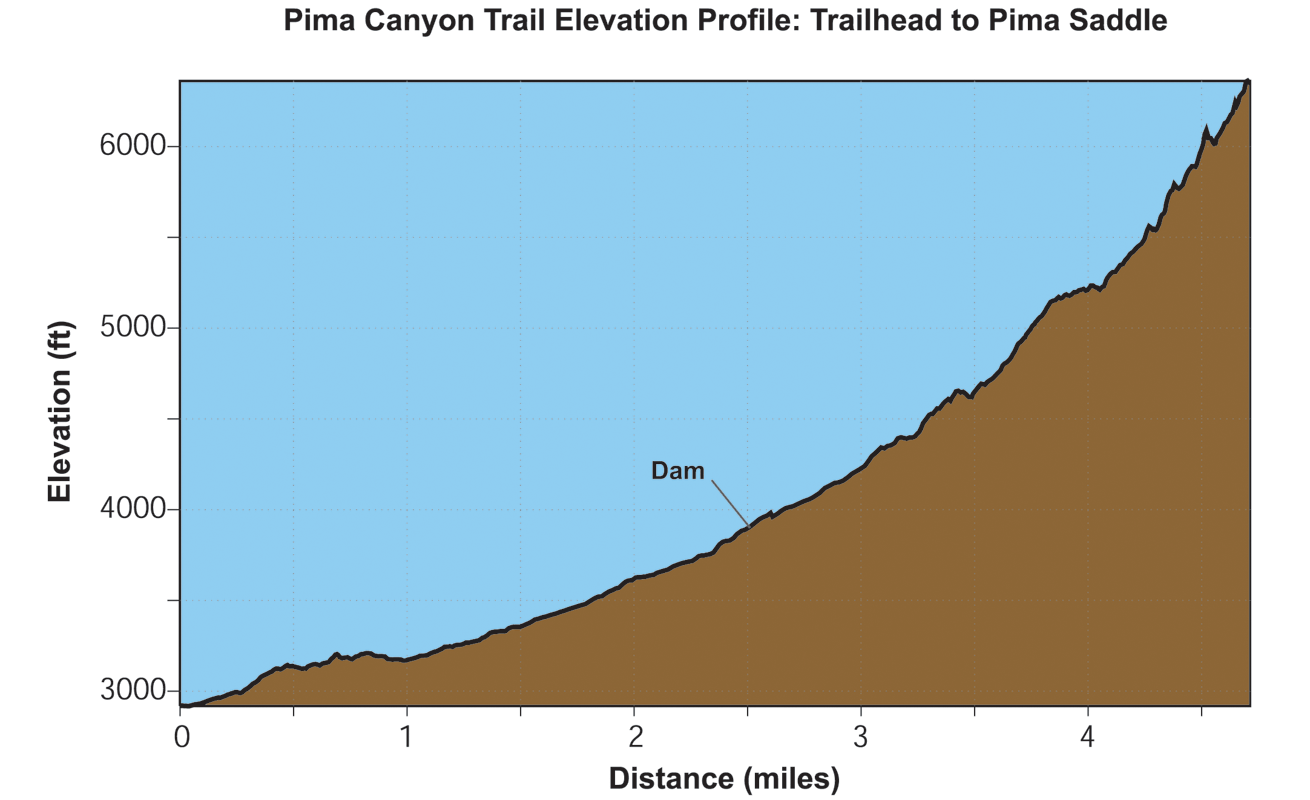 Trail Log
You can't get lost on this trail if the dam is your destination. It's well worn and follows the canyon so you'll quickly know if you missed a turn. Above the dam it's a different story; the trail is sometimes only a route. Be sure you have a topo map, a good compass, and know how to use them. A GPS is great to have but don't rely entirely on it. Tall canyon walls tend to interfere with satellite signals.
Hike Notes
Start early to avoid traffic and heat on the trail. Take plenty of water and drink it.
Stay on the trail. The trail has been widened in many places where hikers have bypassed rocky sections. Keep the trail scenic and stick to it.