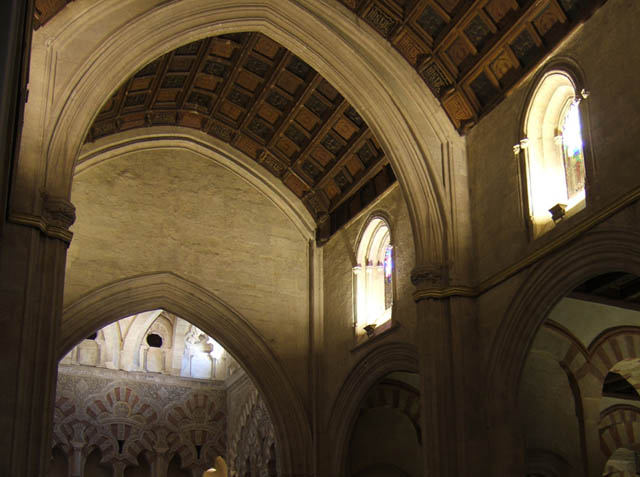 Spain
Sevilla · Córdoba · Gibraltar · Madrid · Pamplona
For those of you who haven't flown Ryan Air, imagine Southwest with a European flair. A significant difference between Ryan Air and major carriers is price and airports served. Oh yes, and baggage. Anything over 15 kg of checked baggage will cost you a per-kg fee. Your cheap flight may end up being not-so-cheap if you haven't planned your luggage accordingly. We did so our flight was uneventful. As we flew toward Sevilla we traded in the lush green foothills of northern Italy for the drier farmland of southern Spain and Andalucía.
The Cathedral of Seville is just a few minutes walk from our hotel. Gothic in style, it was built between 1402 and 1519 on the site of a 12th-century mosque. The 300-ft bell tower has its own name, the Giralda, and was the minaret of the original mosque. A ramp climbs the tower and allows horse access, for those of you who travel with one. Among other works of art and mortal remains lies Christopher Columbus.
Our second day in southern Spain finds us on a pleasant 90-minute bus ride to Córdoba to visit the Mezquita. It's a 13th-century cathedral built within an earlier mosque. Beautiful aisles of Moorish columns surround and hide the cathedral, with different styles representing additions during the 8th through 10th century. We have just a few hours to enjoy this architectural wonder and we're back on the bus to Sevilla.
Day 3 in Sevilla and in true Pisa tradition we make a quick trip to another country and natural wonder of Europe, Gibraltar. The bus ride was unexpectedly long (4 hours) and the last return of the day didn't leave us much time for sightseeing. The Rock of Gibraltar was one of the ancient Pillars of Hercules along with Mount Acho at Ceuta. They marked the end of the known world past which ships sailed at their own peril, most likely off the edge of the earth. Now it's a British dependency, speaks English, and drives on the right side of the road. You can buy almost anything tax free in the shops downtown, but the products are priced with tourists in mind (high, that is). We spent our money on fish and chips at the Canon Street Bar, reputed to be the best in town. We'll have to take someone's word for it; there wasn't time to try anyone else's before our bus left for Sevilla.
Madrid
Monasterio de San Lorenzo de El Escorial · Museo del Prado · Aranjuez
We decided to treat ourselves to the fast luxury of the AVE train from Seville to Madrid. It has its own tracks, no transportation crossings, and fences to keep critters of the tracks. AVE is smooth, fast, and takes 2½ hours to travel the more than 500 kilometers of our journey, with stops. An airline-style breakfast and in-transit movie (Starsky & Hutch in Spanish) is provided, of course.
Our stay in Madrid is 2½ days. With the usual museum closings on one of the days (Monday) we have to squeeze the museum visits into less than two days. After checking into our hotel we catch a local train to San Lorenzo de El Escorial, or El Escorial for short. King Philip II, in honor of his victory over the French in 1557, built a monastery here with a palace, mausoleums, church, library, museum, and monument to himself. The complex is impressive and hardly shows its age (450 years, give or take). The notable octagonal Panteón de los Reyes (Pantheon of the Kings) is under the church and constructed of red and black marble. Identical sarcophagi hold the remains of most of the monarchs since Charles V.
The Museo Nacional del Prado is free on Sundays but only open for 4 hours, so we only have a few hours to explore it. The museum holds an impressive collection of paintings by many great Spanish artists, including Velázquez, Goya, and El Greco. Las Meninas, the masterpiece by Velázquez, is a big favorite. By noon the popular galleries are filled. The small sala with Goya's King Charles IV and his Family and The Shootings of May 3rd 1808 is packed with people. We have less than an hour before the Centro de Arte Reina Sofía closes but that's more than we need. It's all modern art and Kevin wants to see a Picasso. We find Guernica, stare at it a few minutes with everyone else, and move to the next item on the daily schedule; the afternoon movie in Spanish at the hotel.
The last day in Madrid is a rest day for Frank and Kevin. I traveled by train south to Aranjuez, formerly a royal summer residence. This quiet town is famous for its gardens. The extensive Jardin del Principe was added during the reign of Charles III in 1763 and includes many fountains, exotic plants, and a small palace.
We took the sleeper train to San Sebastian, then a bus to Pamplona for the sixth day of Fiesta de San Fermín. Antonio, one of the Moriones from Kevin's mother's side of the family, met us at the bus station. The festival celebrates the martyrdom of Pamplona's patron saint, Saint Fermín, but few of the tourists come for it. They come to experience the running of the bulls and celebrate. Frank is a veteran of the fiesta so check out his log for more on the fiesta experience. You can't celebrate without a pañuelo (usually a red kerchief) so Frank and Kevin buy one.
The actual running of the bulls happens every morning at 8 am and lasts 3-4 minutes. Six bulls and their guiding oxen run a gauntlet along city streets to the Plaza de Toros. Did I mention that hundreds of people, mostly men, run the street in front of, behind, and underneath the bulls? You've got to see it to believe it.
Once in the bull ring the bulls are herded out and penned for bullfighting later in the day. Crowds of questionably sane and sober people, again mostly men, join the runners already in the ring. One at a time, smaller and more experienced bulls are let into the ring. Remember how you played chase with the family dog when you were a kid? Replace the dog with several hundred pounds of angry bull, add several hundred crazy people, and a crowd cheering them on. Once again, you've got to see it to believe it.
Turkey
·
Greece
·
Italy
·
The Tour